Cisco Packet Tracer is a comprehensive, networking technology teaching and learning program that offers a unique combination of realistic simulation and visualization experiences, assessment and activity authoring capabilities, and opportunities for multiuser collaboration and competition.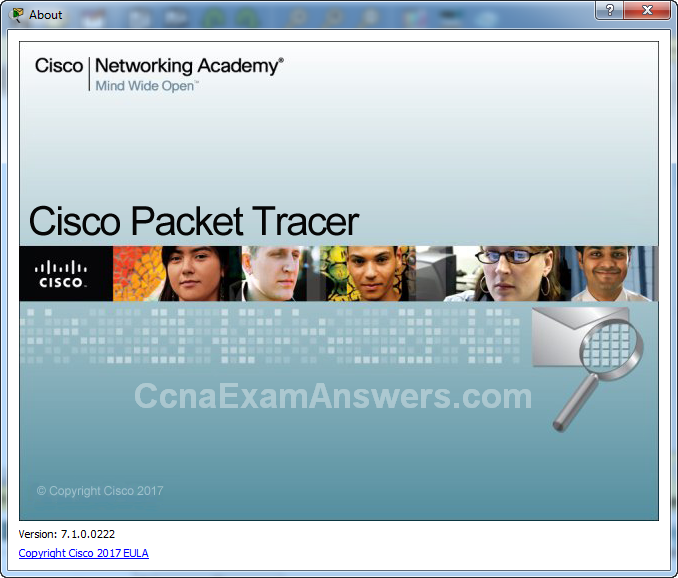 Innovative features of Packet Tracer will help students and teachers collaborate, solve problems, and learn concepts in an engaging and dynamic social environment. Some of the benefits of Packet Tracer are as follows:
● Provides a realistic simulation and visualization learning environment that supplements classroom equipment, including the ability to see internal processes in real-time that are normally hidden on real devices
Enables multiuser, real-time collaboration and competition for dynamic learning
● Enables authoring and localization of structured learning activities such as labs, demonstrations, quizzes, exams, and games
● Empowers students to explore concepts, conduct experiments, and test their understanding of network building
● Allows students and teachers to design, build, configure, and troubleshoot complex networks using virtual equipment
● Supports a variety of teaching and learning opportunities such as lectures, group and individual labs, homework, games, and competitions
● Supports feature expansion through external applications using an API to enhance the functionality of Cisco Packet Tracer in areas such as curriculum and assessment delivery, games, accessibility, and interfacing with real equipment.
Users of previous versions of Packet Tracer will note a variety of new features in this version of Packet Tracer.
Latest IOS: Updated IOS version for existing devices
• 1941 – 15.5.3
• 2901 – 15.5.3
• 2911 – 15.5.3
• 819 – 15.4.3
• 829 – 15.6.3
• 1240 – 15.6.3
• 3560 – advipservicesk9 12.2.46
Global SFP/SFP+ Support (Single Form-factor Pluggable)
HWIC-1GE-SFP (high speed WIC)
CT2504 WLC (Wireless LAN Controller)
3702 (ac)/ APs (Access Points)
Physical Mode
+ Allow more flexibility for rack and stack,
+ Allow add-a-rack and add-a-table
+ Allow more flexibility in using minimum RU separation between devices
+ Allow 42 RU racks with one type of patch panel
+ Allow optional association between logical clusters and physical clusters of devices
+ Patch panel and wall mount for horizontal cabling
Desktop Apps
+ Install, uninstall, stop using Programming tab
+ Show a list of apps, with status, stop button, uninstall button
+ Import/Install from local .pkp (Packet Tracer Program) file
+ Export programming project as .pkp file from Programming tab
+ When opening pkt/pka files, it checks if there is a new version of the apps and prompt to update
+ Install custom user command to command prompt like "mqtt broker", or any of the linux commands
+ Accept arguments following the command
MQTT (Message Queue Telemetry Transport) protocol
+ Open APIs
+ Open API to show PDU info
+ Open API to dynamically add new packets in the event filter
+ See Python API and JavaScript API for implemented API.
+ Server end device GUI for MQTT broker service
+ Use Desktop User App to do the above; can be done in 7.0.1
+ On/off switch for MQTT service
Assessment: Activity Sequencer Enhancements
+ Activity sequencer gui to validate and modify configuration files
+ Load external resources (html, images, etc) relative to the save file.
+ Compressed (mp3) music/sound support
+ Automated smv propagation
+ Marker overlays for PT interface.
Activity Wizard Code Testing ("Connectivity Tests")
3650 switch
829 router
4321 router
Create IOS-XE as regular IOS
ASA 5505 Security Plus License Upgrade
Updated Help documentation
Updated Sample files
Two training courses for PT basics and IOT
Packet Tracer 7.1 supports activities authored in Packet Tracer 7.0, 6.3, 6.2, 6.1.1, 6.0.1 and 5.X. All activities included in the CCNA Routing & Switching, CCNA Discovery, CCNA Exploration, CCNA Security, and IT Essentials curricula are also fully compatible with Packet Tracer 7.1.
To successfully install and run Packet Tracer 7.1, the following minimum prerequisites must be met:
Minimum
– CPU: Intel Pentium 4, 2.53 GHz or equivalent
– OS: Microsoft Windows 7, Microsoft Windows 8.1, Microsoft Windows 10 or Ubuntu 14.04 LTS
– RAM: 2 GB
– Storage: 500 MB of free disk space
– Display resolution: 1024 x 768
– Language fonts supporting Unicode encoding (if viewing in languages other than English)
– Latest video card drivers and operating system updates
Recommended
– CPU: Intel Pentium 4, 3.0 GHz or better
– RAM: 4 GB
– Storage: 700 MB of free disk space
– Display resolution: 1920 x 1080
– Sound card and speakers
– Internet connectivity (if using the Multiuser feature or tutorials)
Free Download – Mediafire – Google Drive + Netacad Account:
64 Bit >>>   Mediafire | Google Drive
32 Bit >>>   Mediafire | Google Drive
Netacad Account:
Email: [email protected]
Password: CcnaExamAnswers.C0m